Publised on
13 Oct, 2017
on
10:27:53 am
by
Admin
Overview of
Pelling
The beautiful small town Pelling is situated in West Sikkim which is the second most popular tourist designation in the state of Sikkim after Gangtok. It offers magnificent and breath-taking view of the Mt. Kanchenjunga and surrounding peaks of the Himalaya which attracts thousands of tourists every year. Watching snow-capped Kanchenjunga and its neighboring peaks in early sun light is a memorable experience which can't be described in words. Pelling is an ideal destination for nature lovers.
Pelling, the pleasant small town is located at an altitude of 6800 ft and 10 km away from Geyzing which is the district headquarters of West Sikkim. Some places around Pelling are very remote and are covered by thick forest those are still virgin region. This place is famous for its scenic beauty. The closer view of world's third highest peak Mt. Kanchenjunga and other snow covered ranges are the main attraction of Pelling. Apart from that some very famous Buddhist monasteries like Pemayangtse Monastery and Sanga Choeling Monastery, magnificent waterfalls like Kanchenjunga Falls, Rimbi Waterfalls, Chhange Waterfalls etc., Rock Garden, Singshore Bridge, Khecheopalri Lake and many more are the other attractions can be visited in sightseeing tour of Pelling. All categories of hotels ranging from budget hotels to resorts, restaurants of different cousins, travel agencies and travel help desks like all types of facilities are available in Pelling for tourists.
Pelling in Early Morning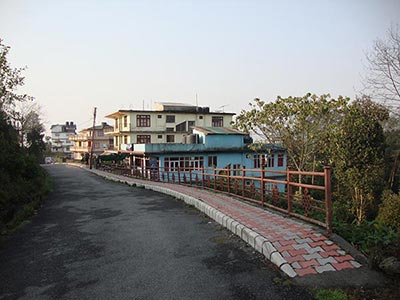 How to Reach

Pelling
By Air
Bagdogra Airport to Pelling - Bagdogra Airport in Siliguri, West Bengal which is 135 km away is the nearest airport to Pelling. Private taxis are easily available and it will take five and half hours time to reach Pelling from Bagdogra Airport.
By Train
New Jalpaiguri (NJP) to Pelling - The nearest Railway Station of Pelling is New Jalpaiguri (NJP) which is 130 km away from Pelling. NJP is well connected with other major cities of India like Howrah, Guwahati, New Alipurduar, New Delhi, Chennai etc. Plenty of private taxis and shared taxis are available at NJP to get to Pelling. Buses are also available from SNT Bus Stand, Siliguri (8 km from NJP) to reach Pelling, but the number of buses are very few. Both bus and taxi take around five and half hours to reach Pelling from NJP.
By Road
Tourists usually reach Pelling mainly from two cities – Siliguri and Gangtok. Pelling is also well connected to other cities of Sikkim.
Siliguri to Pelling – Private and shared taxis, buses (from SNT Bus Stand) are available to get to Pelling. This distance is 130 km and it's a five and half hours journey.
Gangtok to Pelling - Private and shared taxis, SNT buses are available to get to Pelling. This distance is 115 km and it's a five hours journey.
Darjeeling to Pelling – Only private taxis are available. The distance is 109 km and it's a four and half hours journey.
Kalimpong to Pelling - Only private taxis are available. The distance is 85 km and it's a four hours journey.
Ravangla to Pelling - Only private taxis are available. The distance is 45 km and it's a two and half hours journey.
Weather of

Pelling
The altitude of Pelling is 6800 ft, so the weather is very pleasant here throughout the year except winter season. Winter is very cold in Pelling and the average minimum temperature does down to 1 degree Celsius. Sometimes in the month of December and January, Pelling is under snow cover which is a memorable experience for tourists. Most of the international tourists visit this place in winter season. Summer (April to June) is very comfortable here and thus this is the pick season. The average maximum temperature is in between 20 and 25 degree Celsius. Heavy rainfall during rainy season (July to September) is expected here and thus landslide is very common in monsoon. So it's better to avoid the trip in monsoon time. But the best time to visit Pelling is October to November and February to June.
Where to Stay and Dine in

Pelling
Guide to Pelling Hotels - Almost 100 different category hotels are present in Pelling for all types of visitors. Tariff of hotels located in lower Pelling is comparatively cheaper than hotels of upper and middle Pelling. Apart from hotels, few resorts are also present here. Some holiday homes of Government and private organizations are also available, but these need to be booked 2 - 4 months before. To see complete list please check Holiday Homes in Pelling.
Pelling Restaurants Guide - Plenty of Restaurants are available in Pelling with both vegetarian and non-vegetarian menus. Almost all hotels have their own restaurants, so tourists don't have to go outside for lunch and dinner. When it comes to cuisine, Pelling offers many options. Starting from Tibetan cuisine to Indian, Chinese and Continental dishes are available here. Different types of delicious Momos and Thukpa are available here and tourists should not miss these.
Sightseeing in

Pelling
Pelling has some exciting places and tourist spots around and visitors must visit these places during Pelling tour. Both private and shared taxis are available for Pelling sightseeing. Kanchenjunga Falls, Chhange Waterfalls, Rimbi Waterfalls, Pemayangtse Monastery, Sanga Choeling Monastery, The Rock Garden, Khecheopalri Lake, Singshore Bridge, Dentam Valley, Darap Village, Yuksam etc. are some important places those must be visited during Pelling sightseeing.
Singshore Bridge, Pelling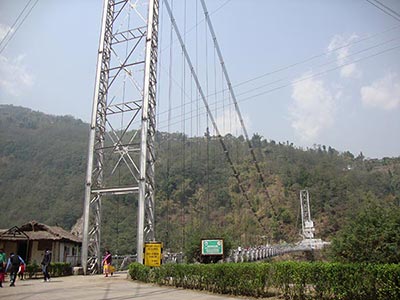 Travel

Tips
Sikkim is the cleanest state in India, so please don't leave your garbage other than Bins. Please don't spit on the road and don't smoke or drink in public places. Otherwise you will be punished. Obey all local rules and regulations to avoid hassles. The local people of Pelling are very peace loving and friendly in nature, so please communicate with them politely and behave like a friend.